Hey memoQ is an iOS application that provides dictation support for users of the memoQ translation environment. In this blog post, we answer questions about Hey memoQ, how it was developed, and how you can use it to translate more efficiently.


Which speech recognition service does Hey memoQ use?
Developing a speech recognition service requires an enormous amount of resources. We never planned to create our own service. Instead, we looked for an existing system, one that is both reliable and readily available.
Today, Hey memoQ is available on the iOS platform, the operating system for iPhones and iPads. When you dictate text into the app, it goes to your memoQ client via the internet. As an application running on iOS, Hey memoQ has free access to Apple's speech recognition service, the same service you can use to dictate an email or text a message on an iPhone or iPad. Non-iOS devices, like Android phones or PCs, do not have access to Apple's speech recognition service.
Although other platforms, like Android or Windows 10, also have their own free speech recognition services, their services are not equal in quality and functionality. Paid speech recognition services are also available, but we decided against using a paid service for Hey memoQ.
Why did we develop Hey memoQ for iOS?
We wanted to release Hey memoQ on a single platform. iOS was chosen after careful consideration of several factors including:
Number of languages supported

Quality of speech recognition

Quality of support for individual languages (for features like dictating punctuation)
Why not Android?
Android was also considered, but we found clear disadvantages when compared to Apple's offering. Android does not provide enough support for dictating punctuation (e.g., saying the word "comma" in your language to enter a comma in the text editor). This kind of support is missing for languages like Swedish, Portuguese, or Hungarian — Apple, on the other hand, supports this feature in all these languages. There is no public documentation with specifics about language support from either Apple or Google, so we have conducted our own tests of this feature. Our findings show that Apple's support for dictation of punctuation marks is superior.
Which languages does Hey memoQ support?
Hey memoQ supports dictation for more than 30 languages (60, counting regional variations). These are the languages currently supported by both Hey memoQ and Apple's speech recognition service:
Arabic

Arabic (Saudi Arabia)

Catalan

Chinese (Hong Kong S.A.R.)

Chinese (PRC)

Chinese (Taiwan)

Croatian

Czech

Danish

Dutch

Dutch (Belgium)

English

English (Australia)

English (Canada)

English (Ireland)

English (New Zealand)

English (Philippines)

English (South Africa)

English (United Kingdom)

English (United States)

French

French (Belgium)

French (Canada)

French (France)

French (Switzerland)

German

German (Austria)

German (Germany)

German (Switzerland)

Greek

Hebrew

Hindi

Hungarian

Indonesian

Italian

Italian (Switzerland)

Japanese

Korean

Malay

Meänkieli

Norwegian

Norwegian (Bokmål)

Polish

Portuguese

Portuguese (Brazil)

Portuguese (Portugal)

Romanian

Russian

Slovak

Spanish

Spanish (Chile)

Spanish (Colombia)

Spanish (Mexico)

Spanish (Spain)

Swedish

Swedish (Sweden)

Thai

Turkish

Ukrainian

Vietnamese
How does Hey memoQ compare to Dragon by Nuance?
We are excited about Hey memoQ, but you might want a user opinion, too. We invite you to read this blog post by Kevin Lossner, a freelance translator who knows both Dragon and memoQ well. He compares Hey memoQ to Dragon Naturally Speaking and offers numerous pointers for users. In addition, there is one indisputable comparison we can make: Hey memoQ supports significantly more languages than Dragon.
Which devices can run Hey memoQ?
Devices with iOS 10 or later (iPhone 5 or later) are able to run the app.
How much does it cost?
Hey memoQ is free. You can download it directly from the App Store.

How do I get started?
When you are ready to install and use Hey memoQ, we recommend you first read this online guide. It explains how to set up the application and start using it for your translations.
Which memoQ version do I need to use Hey memoQ?
Hey memoQ is only available for memoQ version 8.7.
Which voice commands are available in Hey memoQ?
Full list of available voice commands (which you can customize):
Confirm Active Segment

Concordance Insert Selected

Select Phrase

Undo

Redo

Concordance

Add Term

Select All

Copy Source To Target

Go To Segment

Go To Start

Go To End

Filter Phrase

Reset Filter

Insert Hit 1

Insert Hit 2

Insert Hit 3

Insert Hit 4

Insert Hit 5

Insert Hit 6

Insert Hit 7

Insert Hit 8

Insert Hit 9
How do I change voice commands?
memoQ has a fixed set of operations that are available as voice commands, but you can change the words you say to activate a command. To do this, at the top of the Hey memoQ settings window, click Dictation commands. In the "Show dictation commands for" dropdown, choose a language you want to dictate in. To change a voice command, click the Edit icon in the command's row. Type the command you want to use. Press Enter.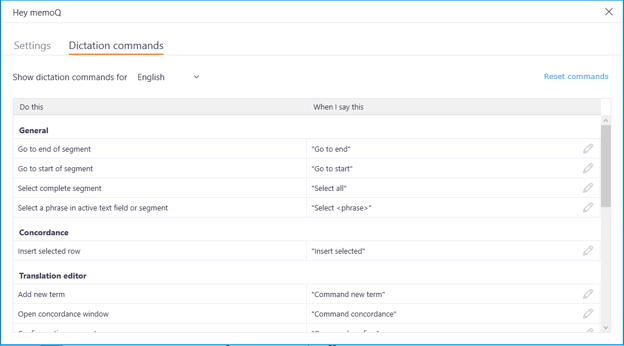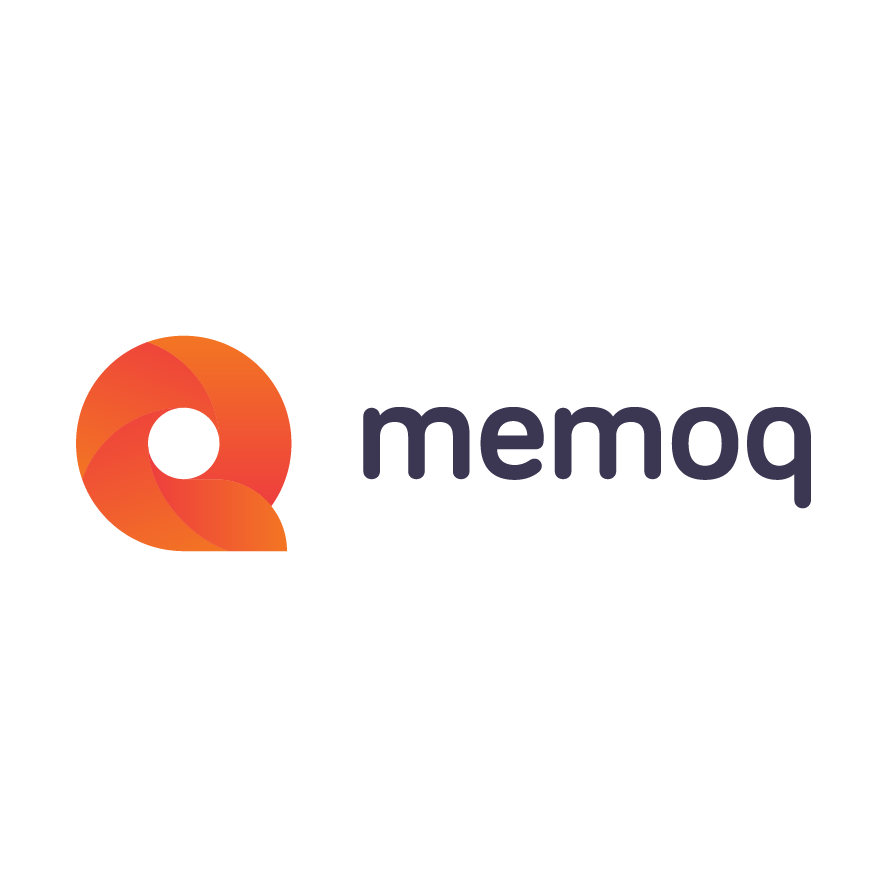 memoQ
memoQ is among the world's leading translation management systems. The favorite productivity tool for translation professionals around the globe.