Interdependent biological organisms from the tiniest to the largest and their physical environment: these are the building blocks of any ecological system. The health of an ecosystem much depends on the health and quality of the surrounding physical environment: when outside interference damages the physical environment the abundance of life is also threatened in the ecosystem. The health of the physical infrastructure in its entirety is of primary importance for biological life.
memoQ developer Kilgray Translation Technologies has decided to underline the importance of the ecosystems of global waters with the newest series of upcoming releases. The biological health of our waters contributes to the welfare of humans on our planet. We believe the protection of the environment is of primary importance today. Kilgray therefore will support research and protection agencies and organizations – and will consequently name their upcoming product releases after the waters of the world.
We made this decision because we believe the protection of the environment is more urgent today than ever before: global warming contributes to the acidification of the world seas and destroys marine ecosystems in never-before experienced scales. Kilgray hopes to contribute to the global effort by offering a part of their income to tackle these challenges.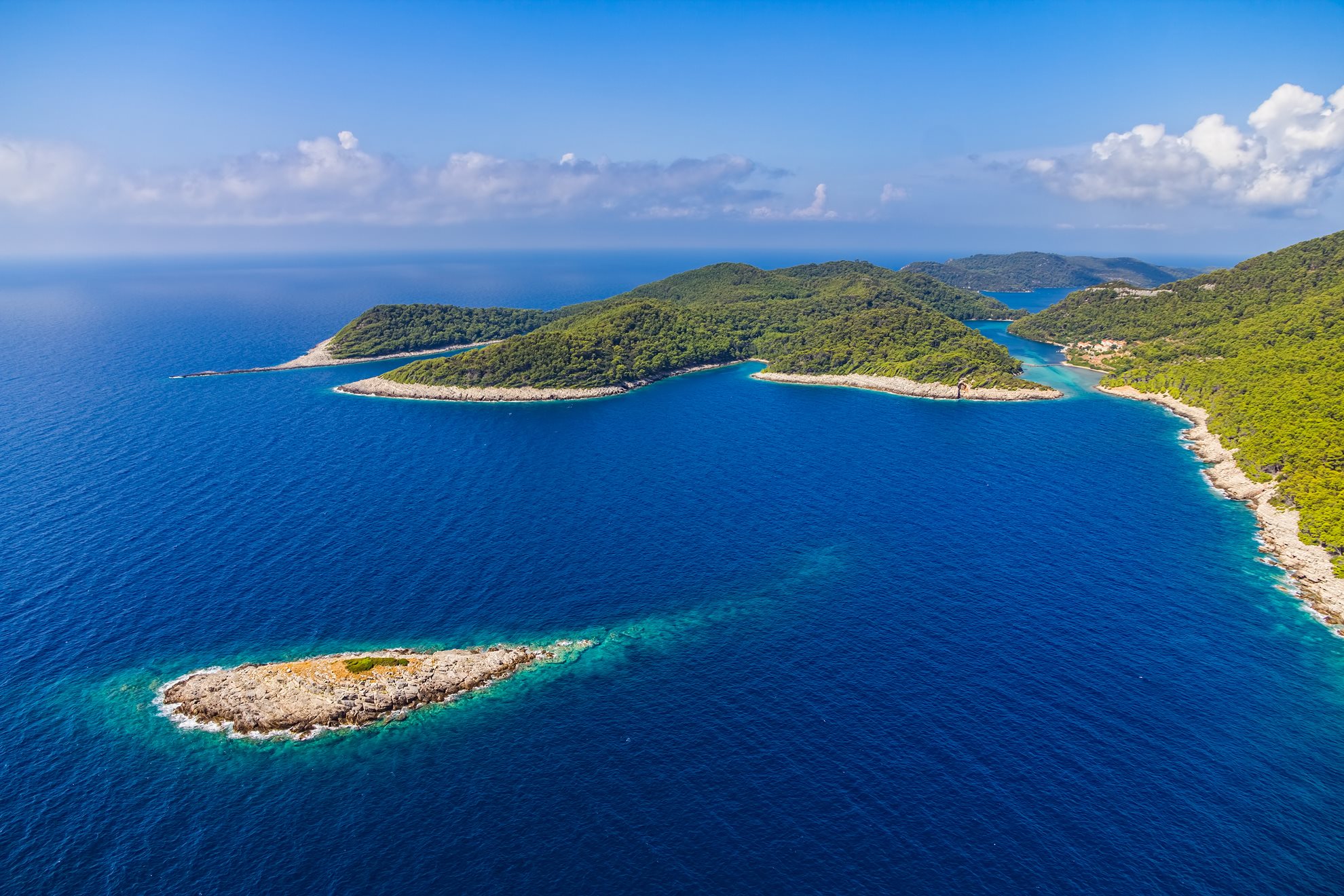 memoQ is also a part of an exciting ecosystem. As with the ecosystems of the world's waters, memoQ products and its integrated services behave similarly to physical environments providing means for marine environments.
We provide a big chunk of the physical environment for organizations and translators who use an ever-extending pool of tools to provide better and faster services, and to save valuable resources by using the memoQ environment, to achieve sustainable productivity.
In accordance with the new release strategy memoQ Responsive Evolution memoQ translation environment will go further in one compatibility step. Instead of giving you one single, big pack of features, memoQ Adriatic is a first in a series of compatible releases. Releases that enhance and develop the entire memoQ physical infrastructure overall, concentrating on the health and operability of the full scale of the memoQ environment – so that it will continue to provide a healthy and rich physical environment for our widespread and colorful ecosystem of organizations and translators worldwide.
This means that we are going to issue many more product versions packed with new and useful features, based, in many ways, on your requests and common user scenarios. The names of all new upcoming compatible product versions will start with letter A – this will ensure that you will have an instant understanding of compatibility. (I think at this point I can let you in on a small secret: memoQ Aegean is emerging to be published soon, packed with a new range of amazing additions to your environment.) These releases will be spread evenly around the year – and, for sure, the following year – packed with useful features and functionalities to serve you and your organization better. We will create how-to videos and information materials to enable you to pick up on the new functionalities you are interested in the fastest and most effective way possible.
The new release memoQ Adriatic addresses pretty much one single but very widespread topic: productivity. Throughout its rich feature pack this product version will enable organizations and translators to enhance and streamline their processes by introducing new features and functions in the ecosystem where memoQ plays a significant role.
With memoQ Adriatic, we have achieved an unprecedented overall productivity boost for the entire memoQ environment in one single step; plus, we empowered memoQ's integrated Language Terminal (LT) to tackle some amazing productivity challenges.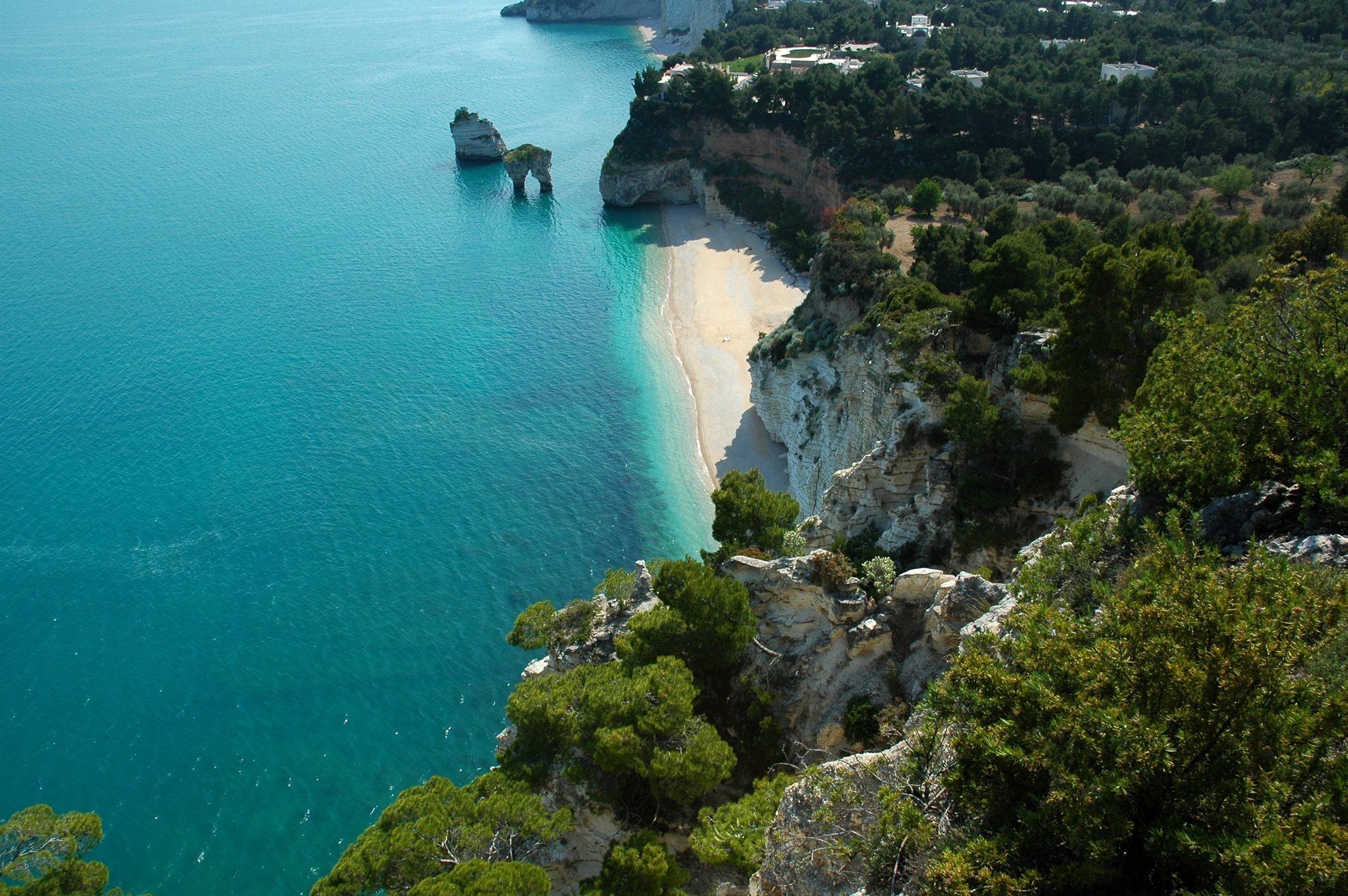 With the enhancements to LT we can now equip you with new ways to streamline your processes to aid your financial planning and sales departments and established a comfortable and neat way to serve your clients – let them be external clients or members of your own widespread organization. We also added new project management features to boost your internal capacity and, in memoQ itself, we enabled you to tackle some important challenges common to major industries like medical, pharma and legal.
Let's see how we did that! memoQ Adriatic helps you and your organization better achieve your goals in four major areas:
One of the most important issues in an organization is to be in control of finances and resources. memoQ Adriatic enhancements in both Language Terminal and in the cooperating memoQ systems will give you valuable tools to handle just that. You will have a first glance view of your resources and your project costs, and you will also be able to measure various aspects of your work flow.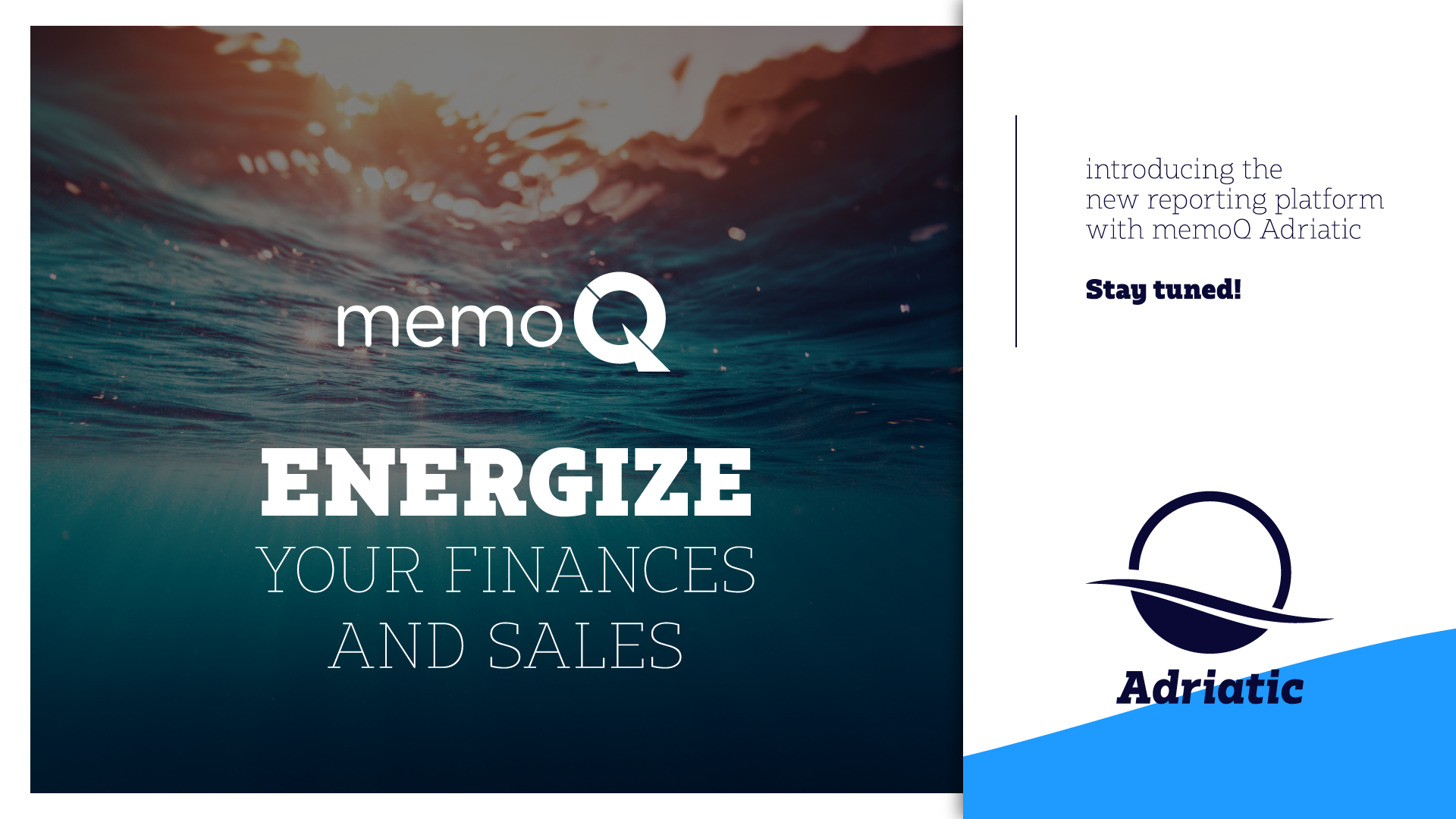 memoQ Adriatic is introducing a brand-new reporting platform with two new highly useful metrics to start with. You received a request for proposals from a prospective client? You need to quickly assemble a report on how much work you have been doing in one specific area of expertise? It has always been a bit of a hassle to create sound and good-looking reports on these aspects of your operations to underpin your offers. From the reporting platform now you will be able to do that with one click – and you will have a great report ready for your sales people to support (and win) their arguments. Further new metrics will be coming out regularly in the following period.
Avoid overload and idle time: an availability calendar helps you make sure that vendor capacity is utilized in an optimal way. You will also be able to manage in-house translators, external linguists, their costs, availability and throughput.
Be in control of your finances: utilize your resources ideally, be aware of costs and prepare for proposals!
Empower your clients with memoQ Adriatic: by employing the brand-new Customer Portal you can now give them their own, handy gateway to your processes where they can upload their documents to translate, let them request a manual quote from a project manager, or request an automatic estimate based on weighted word counts.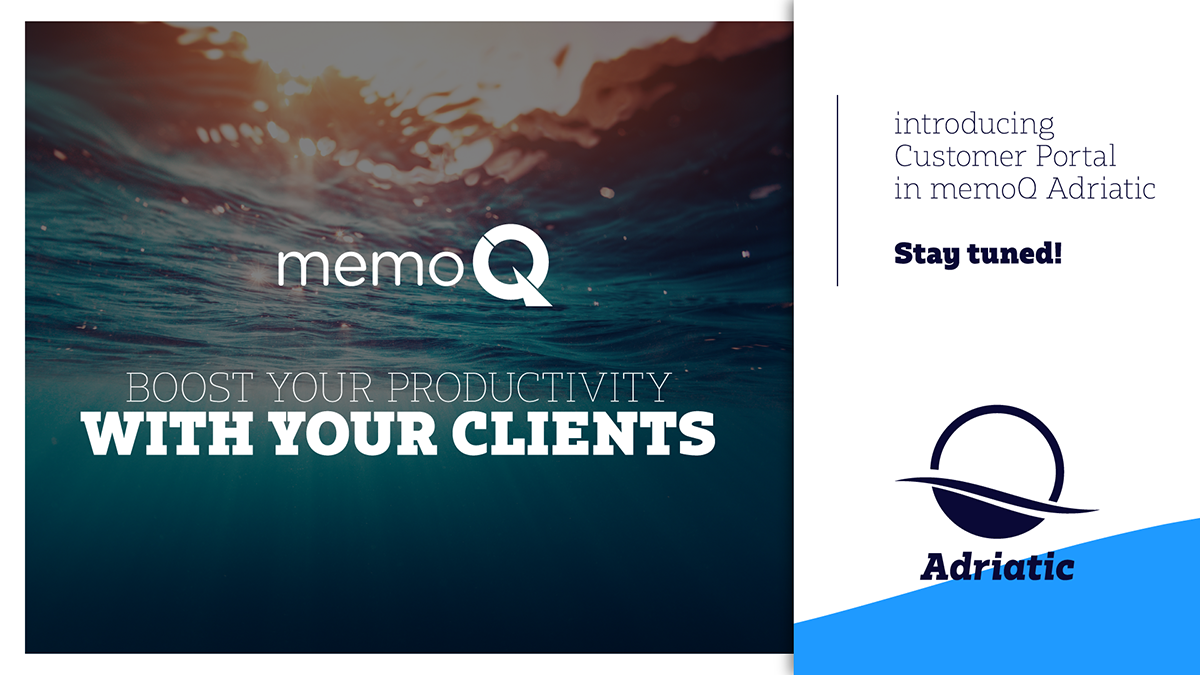 Do you wish to maintain a fully established, trusted relationship with your best clients? You may want them to be able to directly start a translation job! They can approve or reject quotes, and – which is a truly sexy feature – they can track translation job progresses from running jobs, and can download finished translation documents.
The new Customer Portal is a truly innovative and self-explanatory way to keep your clients happy and informed – and maybe even let them do a part of the work. You can use its powerful features to attend to the needs of external translation buyers, but you can also utilize it for your own widespread organization where translation jobs are initiated by various departments and colleagues.
Keep your best clients in the loop – keep them happy via the newest item in the ever evolving memoQ environment: the new Customer Portal!
No time to waste? You are right – project management is a costly business and you need all the time you can spare. For this reason, memoQ Adriatic fashions a feature that will be certainly a welcome addition for many: the management of multiple projects. Project managers will not need to wait for operations on one project just to be able to start another: they can simply jump to another project in a separate window and work simultaneously there too.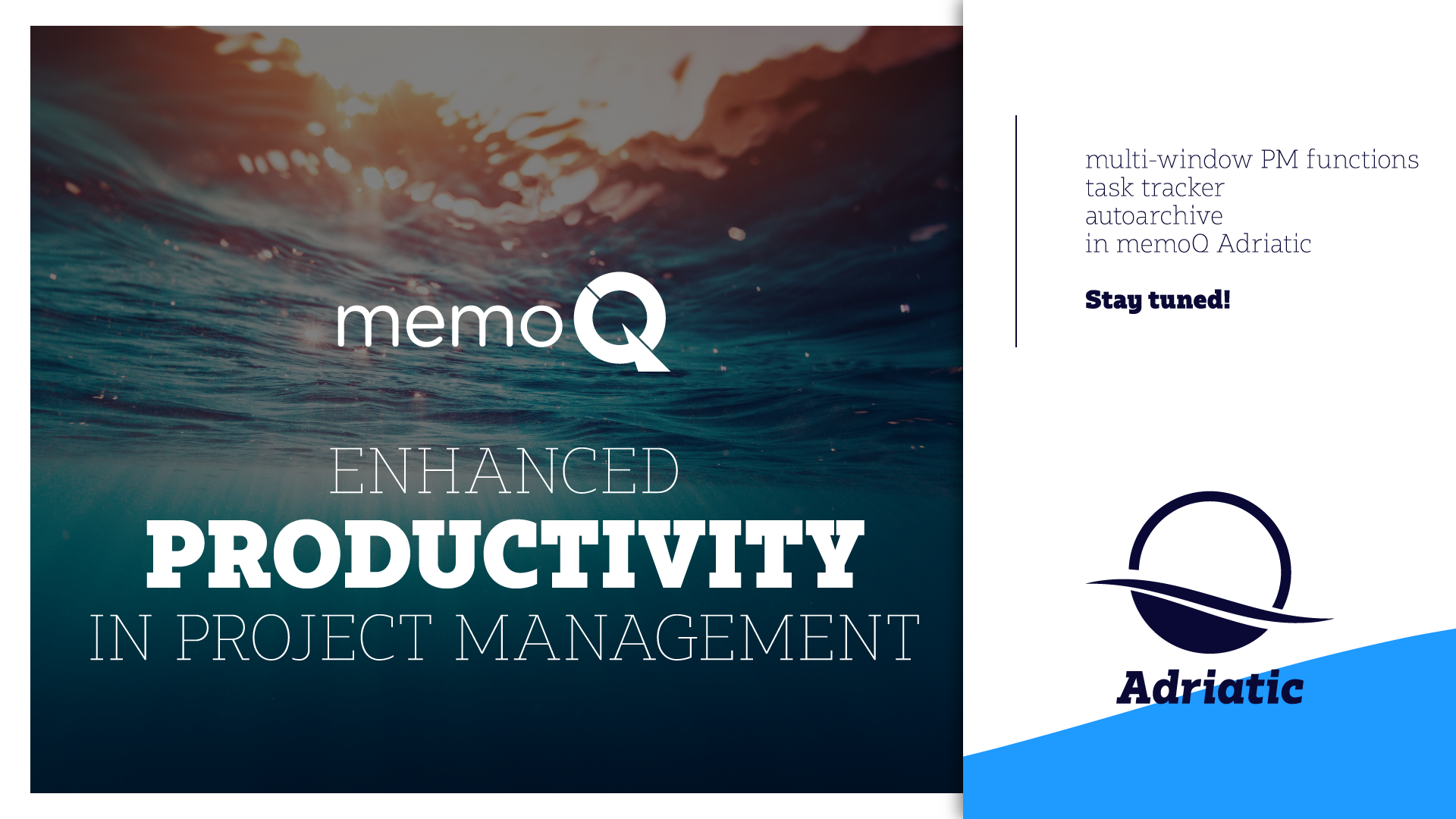 You get an annoying call that requires you to take a look into a running project, but you are in the middle of something? Worry no more: it is possible just to peek into the project document in question via webtrans, give a hand to the person in need and carry on working.
Project Managers will also be able to send long PM operations into the background with the brand-new Task Tracker. It allows you to review ongoing or finished tasks and their results, group tracked tasks by project, cancel a task, remove an individual task or all finished tasks, and so on.
memoQ Adriatic introduces online project backup/restore, autoarchive and cleanup to make it easier to remove the accumulation of many old or abandoned projects from sight – you can do this manually or even automatically.
Project management productivity just got a major boost with memoQ Adriatic!
Much of your work concerns the pharma, the medical or the legal industry? Are you the translator who regularly receives giant documents packed with ever more colorful sections created by track changes? The new Track Changes function introduced by memoQ Adriatic will be very similar to what you are used to in Word: you can import change-tracked Word files, view and work with them and export them back to the translated file.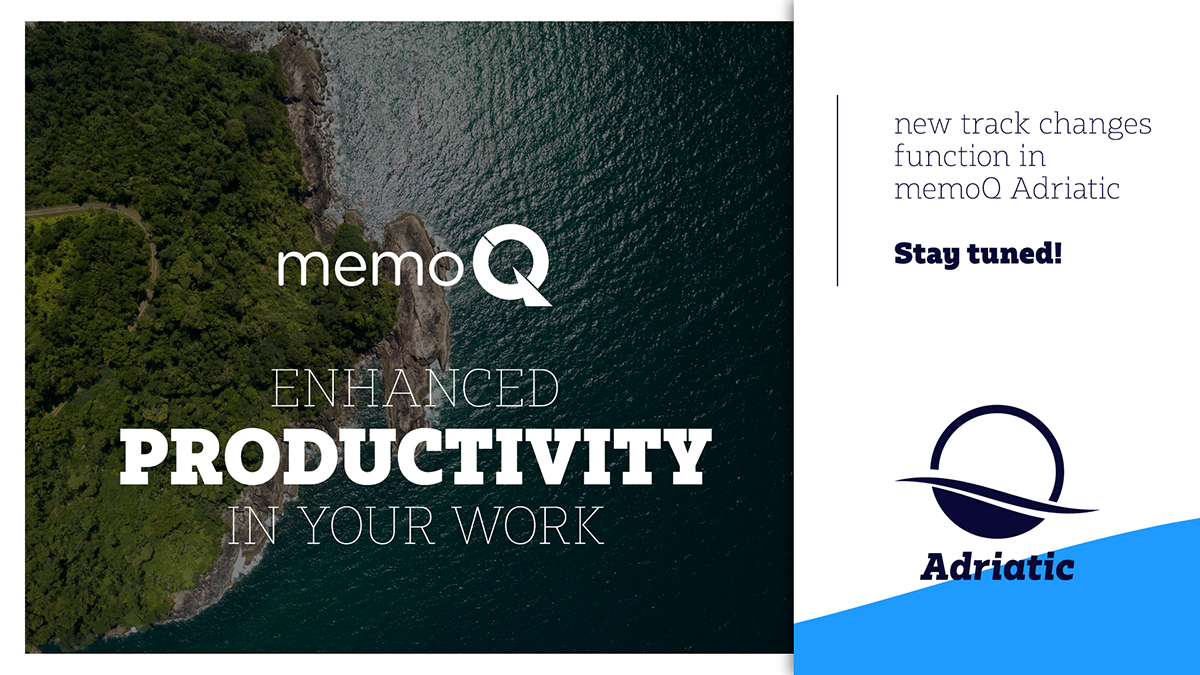 The new Track Changes feature in memoQ will also give you nice, visualized statistics about the tracked changes: check the amount of tracked changes it contains, and how much work will it will require to reproduce them in the final file, while another report gives an overview of the amount of changes made by reviewers.
memoQ's Track Changes feature is a rich solution aimed at translators and there is much, much more to this function – check out the feature intro and many other features rolling out with Adriatic here!
We have also added 32 new languages to the system in memoQ Adriatic – to help you get the most out of memoQ, the most comprehensive CAT tool in the market!
With memoQ Adriatic we have now started implementing the new release scheme memoQ Responsive Evolution. Our client-oriented approach pays careful attention to the balance, health and abundance of the entire ecosystem surrounding the memoQ environments. In the upcoming range of new feature packs (where memoQ Adriatic is first in a row) we are making sure that development is demand-driven, and we pay careful attention to develop the entirety of the memoQ environment to benefit all players of our ecosystem.
For this reason, when we are talking about ecosystems it is not empty marketing-talk. We act on it and we take our mission seriously: with every new release we are creating better and better physical environments for all aspects of our "marine life".
We therefore proudly present memoQ Adriatic. The first great step.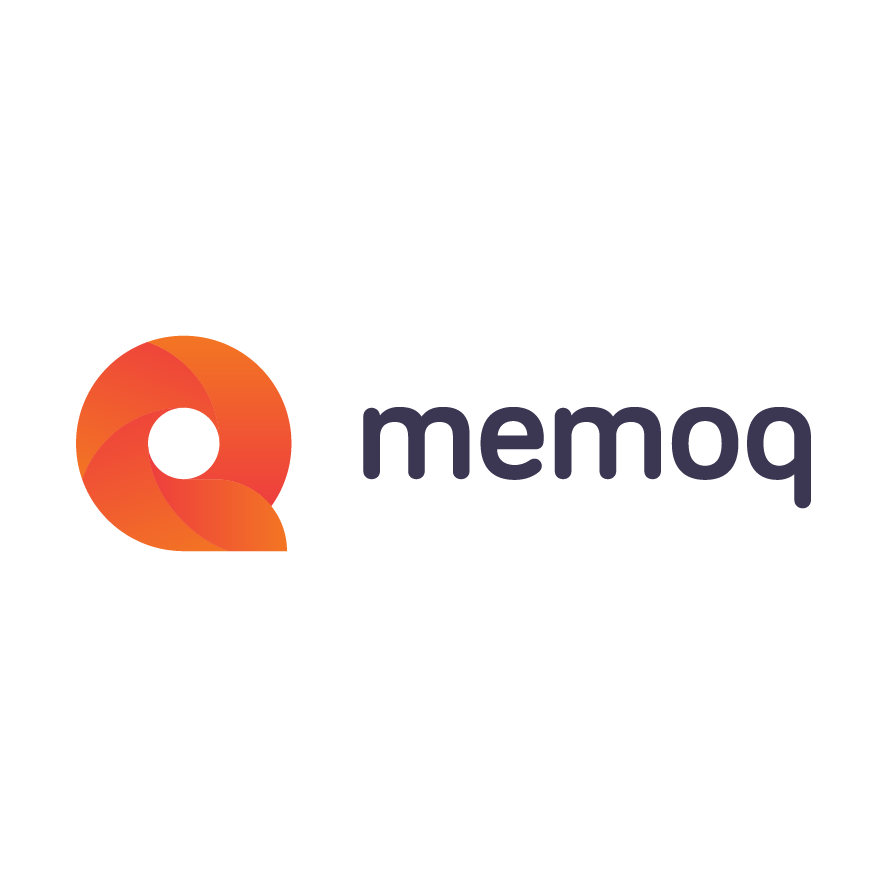 memoQ
memoQ is among the world's leading translation management systems. The favorite computer-assisted translation tool of many translators around the globe.