For many companies and departments, the new year often means looking back at the previous year, evaluating processes, and drawing conclusions. This was no different with memoQ's support team. In early 2023, all memoQ employees received an email from memoQ's Head of Support, Márton Horváth, reporting on the team's 2022 performance, as well as the team's year in numbers.
In this article, we would like to share these numbers with you, as well as let you peek behind the scenes so that you can also get to know the inner workings of memoQ's customer support team.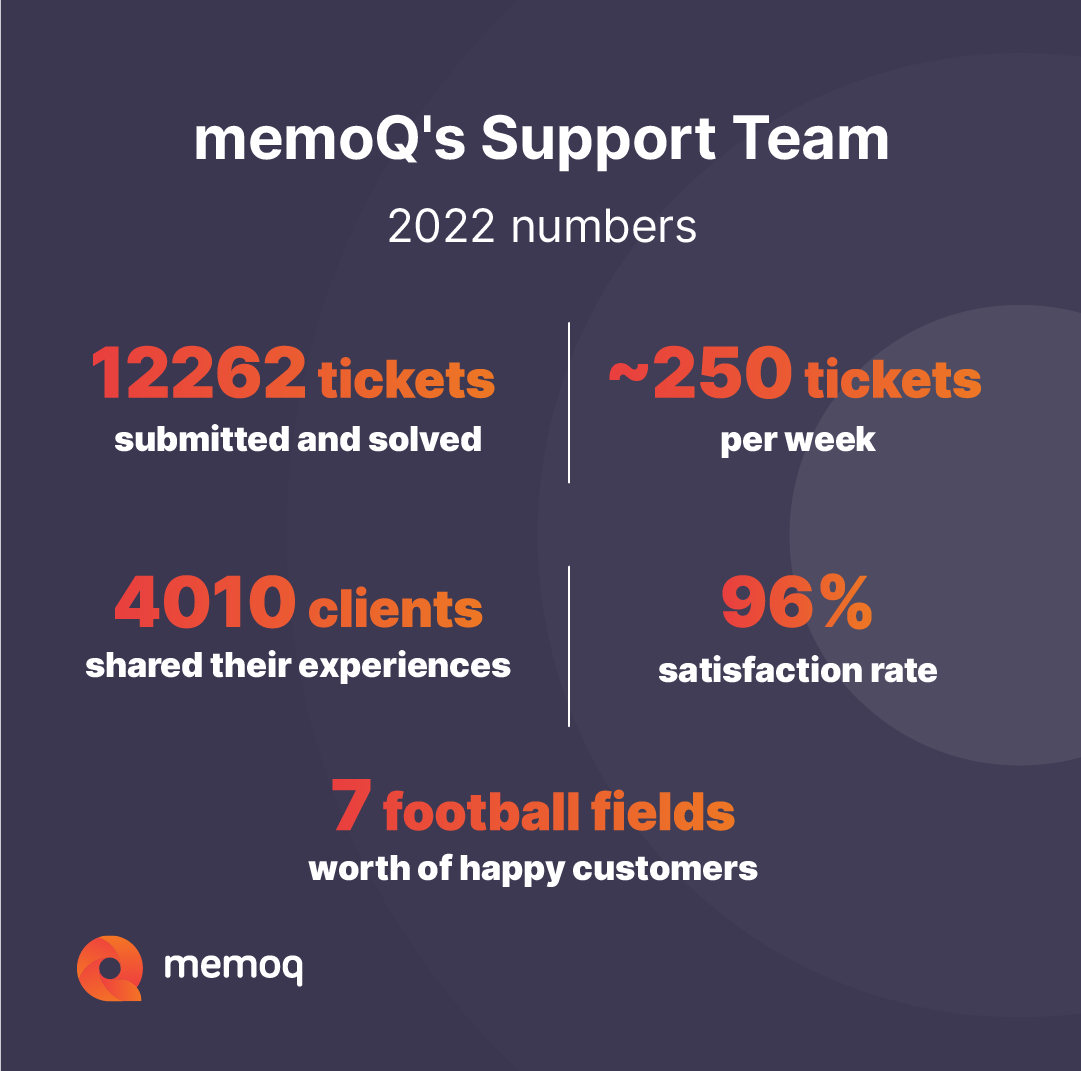 In 2022, the team received close to 13000 tickets (around 250 tickets per week). This is about 1000 fewer than the previous year.
Of these tickets, the top three categories are (as usual) Licensing, Resources, and Import/export issues.
Customer satisfaction is one of the most crucial factors and the main KPI for the support team, so we always go the extra mile to make sure all customers receive the appropriate help in a timely manner. We also take the time to survey how our customers liked our services and whether they received the support they needed for their specific case.
In 2022, we surveyed 12262 tickets, and 4010 of these customers shared their experience via a survey. 96% of them were happy (which, as Márton put it, could fill more than seven football fields).
We are proud of these 2022 numbers and let us assure you that in 2023, we will keep doing our best to make sure that you are satisfied and have a pleasant experience with memoQ support. This also means that feedback is always appreciated.

How memoQ Support works from the inside
If you've ever wondered what happens to and who looks at your support ticket when you send one to memoQ, then here are a few details about the team's inner workings.
Who is behind memoQ's support?
Currently, memoQ's support team consists of twelve people and is managed by Márton Horváth. Team members work in shifts so they can cover most of our client's working hours. memoQ support is available 24 hours a day, 5 days a week.
How do you decide who gets my ticket?
We distribute tickets manually, based on our team members' seniority and skill set. We handle both freelancer and TMS user tickets. Knowing that server problems might affect hundreds of people, we do prioritize them, but we also address freelancers' tickets with the utmost care.
What happens to a support ticket before it is resolved?
When the query comes in, our system turns it into a ticket which helps us organize our work. The users tend to indicate if the issue is critical, but we also prioritize them ourselves. We always treat work stoppages as critical.
Once the issue has been prioritized, it will be assigned to one of our support agents. If it is something that requires more, or specific experience, we might assign it to our second-tier support or involve a developer. The next step is usually reproduction and reporting the issue as a bug. We always attempt to find a workaround for the user, so they can either deliver their work, get the project started, or get back to what they were doing.
How can you make sure you receive the appropriate support?
To ensure smooth cooperation between yourself and the memoQ support team, here are a few tips on how to submit a request to the team. These steps make it easier for the team to understand the issue, and they will also facilitate a faster resolution to your problem.
Step 0: Refer to the memoQ Documentation and Help Center
In addition to the support team, we also have a very dedicated Documentation and Localization team who keeps memoQ's documentation and Help Center up to date. We have an extensive database where you can find information on every memoQ version, and all features, along with step-by-step instructions on how to set up and maintain the software on your computer.
If you are unable to find what you are looking for, please go ahead and submit a support ticket using the following steps.
Step 1: Use the appropriate channel
The only official channel for requesting support from memoQ is via the Support page. Here you can submit a ticket with detailed information on your memoQ version, and the problem with which you need assistance.
Step 2: Submit a ticket
When submitting a ticket through the support page, please make sure you include the following information in your ticket to ensure that the team understands the issue and can help you resolve it as fast as possible.
Prioritize your ticket
We receive numerous support tickets per day, this is why prioritizing the severity of your issue is important for our support engineers. We work with three levels of severity: normal, urgent, and critical.
Report as detailed as you can
The more detailed the problem description, the easier we can identify the solution. Please be as specific as possible and remember to include screenshots in your error report. If you, for example, cannot import or export a document, we will most likely ask for that very file. If possible, please provide an example file along with the bilingual document (.mqxlz format).
Submit one ticket per issue
If you previously contacted support and they helped resolve an issue, and you now have another problem, please do not report it by replying to the email associated with the older issue. When a new issue comes up, please submit a new ticket.
Step 3: We solve your case
Please be patient until you hear back from our support team. We will get to your issue as fast as we can.
Closing words
We hope you enjoyed this glimpse into the inner workings of memoQ support. As you can see, our team of talented and dedicated people are working 24/5 so that you can have the best customer support experience and get help with your request as soon as possible (we hope you don't need it too many times though!).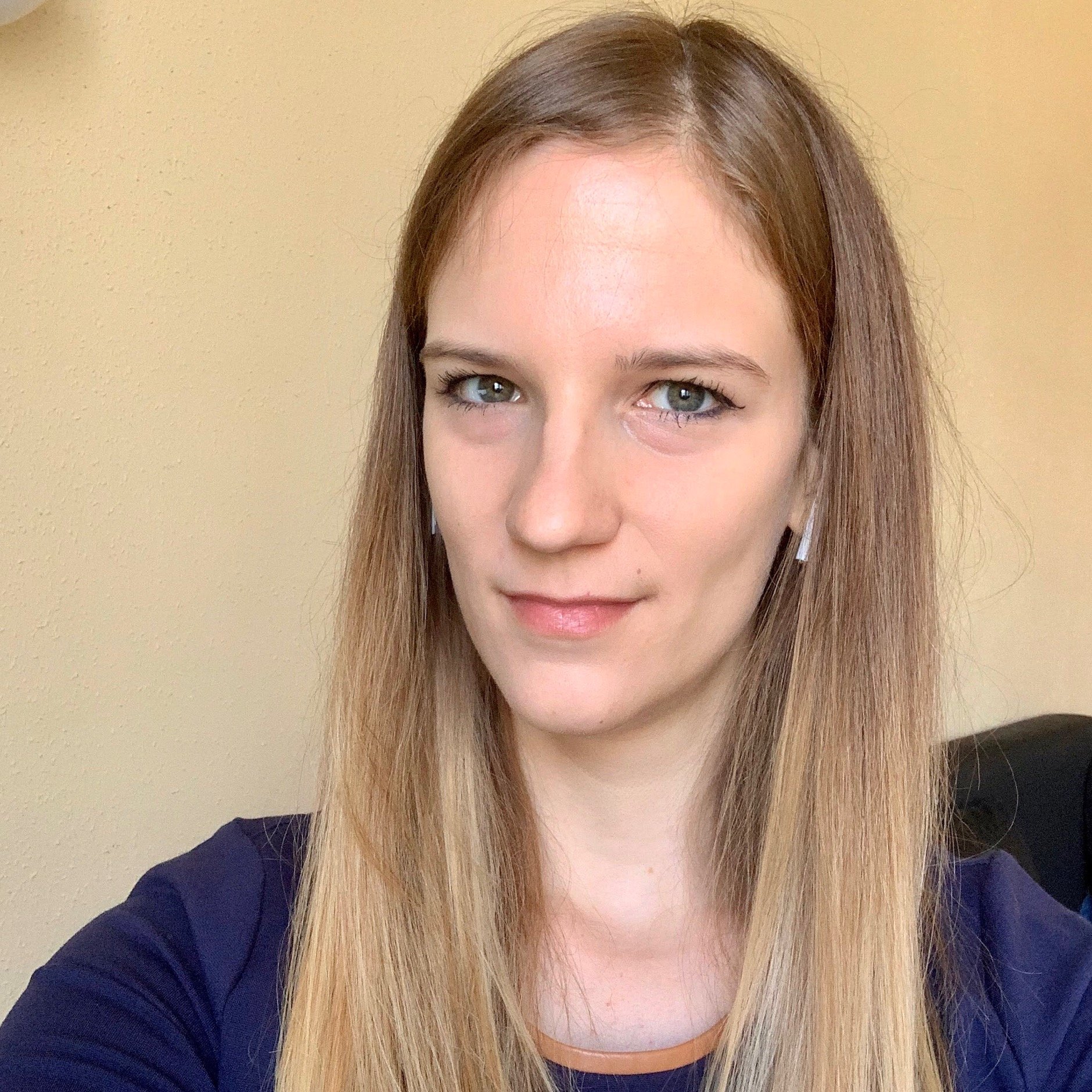 Zsófia Lelner
Linguist turned content marketer, telling the story of memoQ.