You're all about efficiency. Quicker, better, more. Which is why with every release of memoQ, we design refinements and enhancements with the express purpose of helping you boost productivity. memoQ 9.4 is no exception.
No user left behind with memoQWeb features
Desktop client or web-based - no matter which tool you choose, you have the features and functions you need to work optimally.
Last year, we interviewed over a hundred customers to get a sense of how they were working, what they needed, and also what they didn't need. We discovered that more and more localization engineers, project managers and in-country reviewers are using memoQ in the browser. So where it make sense, certain features will be released web-first while others will be rolled out on desktop initially. A good example of this is project management and in-country review functionality, which will be increasingly released web-first.
It's all about streamlining your workflow and making things a little easier, bit by bit. After all, boosting productivity is the name of the game.
Helping you expect the unexpected
There are, of course, countless reasons why the deadline for any given project might change. Perhaps the scope has broadened, maybe a translator's availability has changed, perhaps deliverables have changed. Whatever the reason, it can be something of a chore to change all the relevant assignees, deadlines and statuses.
In memoQ 9.4, users can now select multiple documents and change all of that in memoQWeb, including changing the deadline for all translators in one go, all from the Translations page – see how it works in the screenshots below.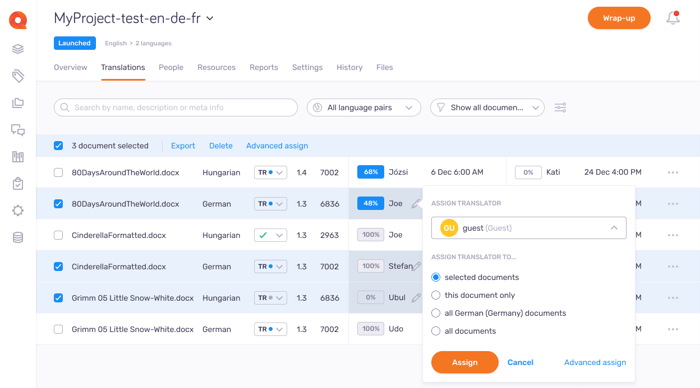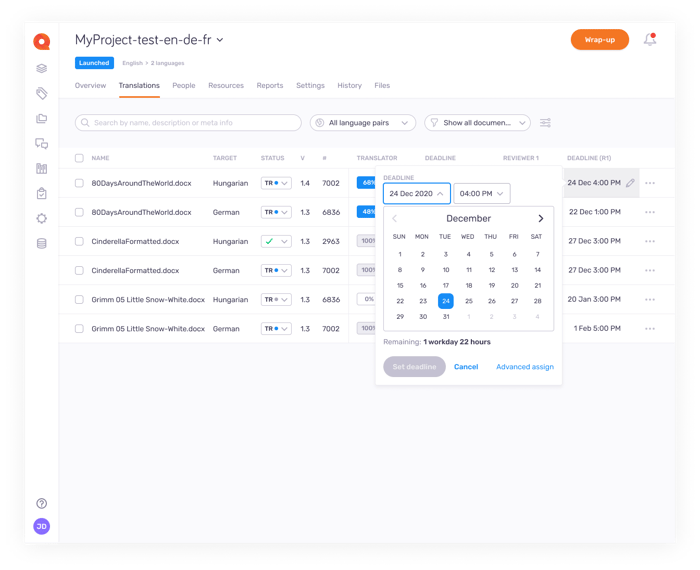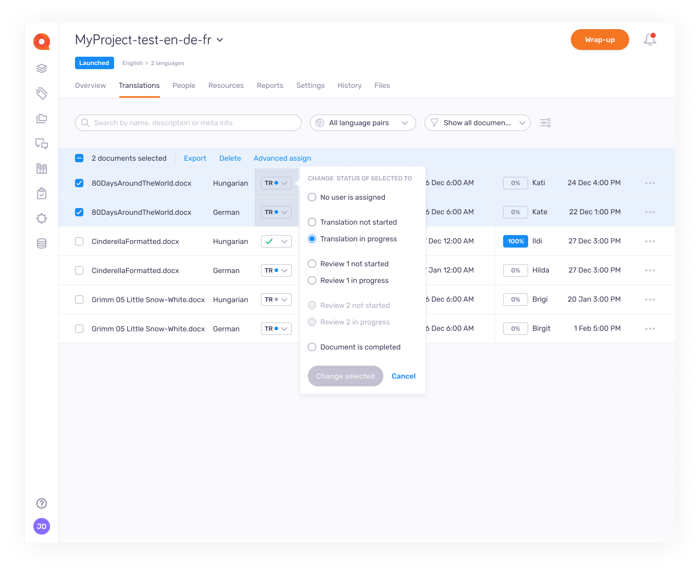 We are constantly adding new features and enhancements to memoQ to help make things more intuitive and streamline workflows. Key to these new features and enhancements are customer comments and suggestions, so please don't hesitate to get in touch and let us know your concerns or issues.
Boosting productivity with file grouping by extension
One such improvement in memoQ 9.4 is the ability to group files by extension. It's now easier than ever to change the import filter configuration you want to use for each imported file type. You can see what that looks like in the screenshot below.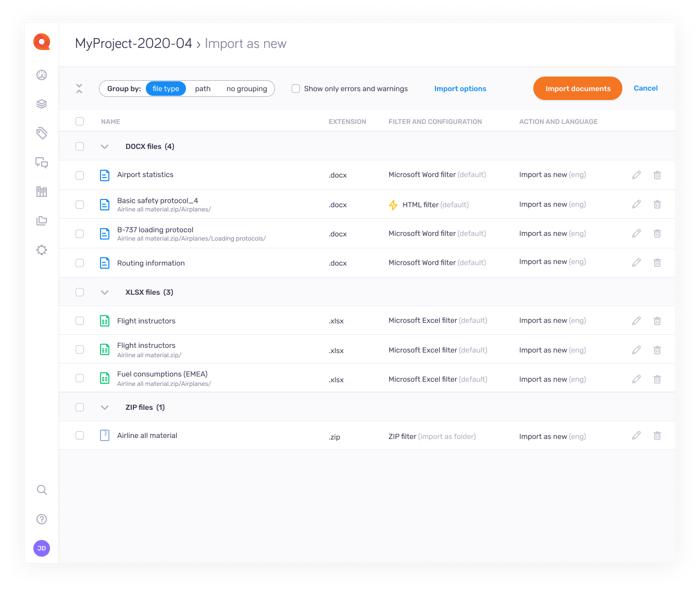 Importing ZIP files as a folder structure is now possible
Now, when you're importing ZIP files, the folder structure is preserved and can be displayed in a tree structure. That's especially handy for situations like, say, importing website texts.
What's more, the ability to use the ZIP filter means that memoQWeb PM now complies with the Common Translation Interface (COTI) standard. Developed by the Association of German Manufacturers of Authoring and Content Management Systems, or DERCOM, this helps standardize the interface between authoring and content management systems and TMSs.
The screenshot below shows that new functionality in action.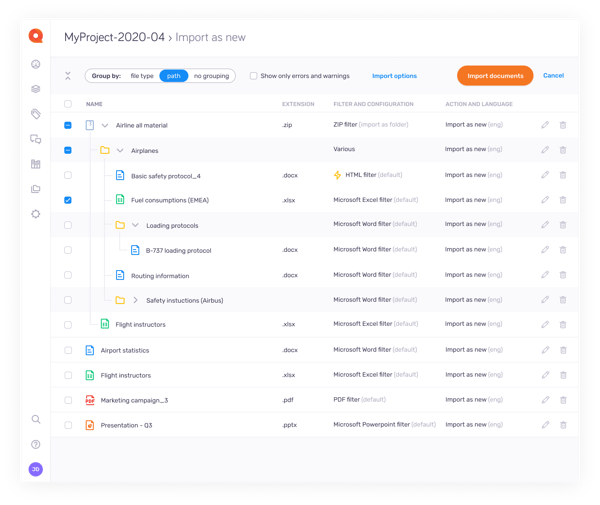 Taking the edge off edge cases
Ever had to manage data in text files? Importing, exporting, analyzing? If the answer is yes, you already know what a hassle the occasional unexpected custom delimiter can be. Not anymore.
Because with memoQ 9.4 you can import text files with custom delimiters into a term base, or TB. Things are a bit easier when you can let software handle all those little edge cases.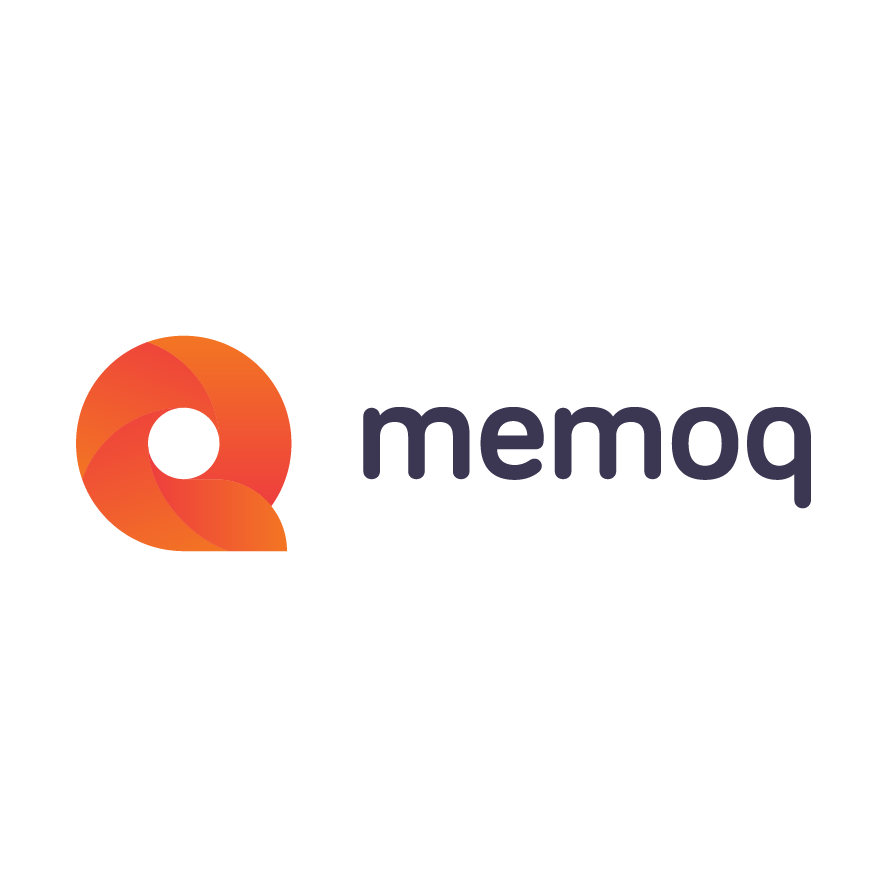 memoQ
memoQ is among the world's leading translation management systems. The favorite productivity tool for translation professionals around the globe.